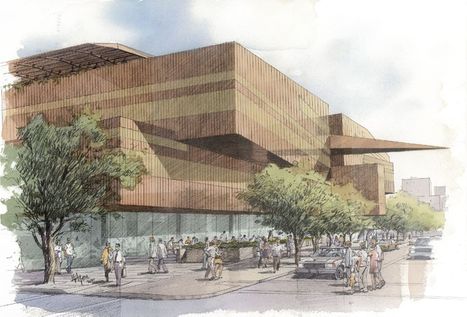 Austin City Hall
The new Austin City Hall is a unique public facility. Its design team is a partnership with an internationally renowned architect, Antoine Predock, and a respected Austin design firm, Cotera, Kolar, Negrete & Reed (CKNR).
The City Hall facility consists of the main building and public plaza for a total area of approximately 115,000 square feet valued at $30 million, and an underground parking garage, approximately 300,000 square feet, valued at $6 million.
Sunland provided early project management and engineering services for this project to assist the City in establishing the phasing and sequencing for the project, including the development of underground tunnel connections to three adjacent city blocks. Sunland provided cost estimating, scheduling, and value engineering services to the design team during the design phase. The cost estimating services included costs for the three-story building, four-level underground parking structure, utility relocation, the pedestrian plaza, and street improvements.
Sunland developed a master schedule for construction activities in the area adjacent to the new Austin City Hall since the five adjacent blocks to the City Hall site were part of a planned development. Prior to the initiation of a construction manager-at-risk (CMAR) contract for the construction, Sunland provided a value engineering study of the full design.
Sunland conducted an analysis of constructability of the underground tunnels for Computer Sciences Corporation's adjacent buildings and the City of Austin. The analysis included various design and construction concepts with anticipated schedule and cost implications. Sunland also assisted City staff in the development of CM@R procurement documents, since this was one of the first alternative delivery projects for the City.
The new City Hall received a Gold LEED® rating in 2006.