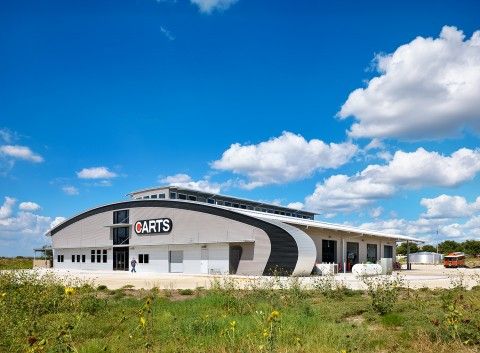 Carts
The Capital Area Rural Transportation System (CARTS) District is a rural/urban transit district organized under Chapter 458 of the Texas Transportation Code as a political subdivision of the state and an entity responsible for transit services in a 7,200 square mile, 9-county area surrounding Austin. The District includes the non-urbanized areas of Bastrop, Blanco, Burnet, Caldwell, Fayette, Hays, Lee, Travis, and Williamson counties, and the San Marcos urbanized area.
The initial Phase 1 includes the complete design and construction of the Vehicle Maintenance Center which houses an 8-bay repair garage, offices, conference room, restrooms, parts storage, machine shop, tire repair/storage, and battery room. The sustainable strategies include rainwater collection, building orientation, and natural daylighting/ ventilation, low VOC paints & coatings, and durable construction materials. The location of this site creates a more centrally located hub for CARTS services.
The following phases will include a 20,000 SF steel-framed intermodal station with a standing seam metal roof; 30' x 50' fuel island canopy with 4 pumps; 5,075 SF wash building with vacuum facilities, and a 4,200 SF paint booth.
Completion Date
Sunland Budget (Planned): $18,208
Sunland Final Cost (Actual): $18,208
Total Construction Cost: $6.7M
Construction Complete: 11/2014
Sunland Start Date: 08/2016
Sunland End Date: 08/2016
Services
Cost Estimating
Value Engineering
Construction Management
Client Contact
Owner: Capital Area Rural Transportation System (CARTS)
Client: Jackson & McElhaney Architects
Client Contact Person: Michael McElhaney, AIA, LEED AP
Project Highlights:
Sunland provided Cost Estimating, Value Engineering, and Construction Management for an 18,500 SF facility. Services also provided for future phase facilities located on 13.7-acre, undeveloped site. Sunland's Ben Thompson, Jon Brady, Stuart Hoevelman, and Jorge Flores worked on this project.