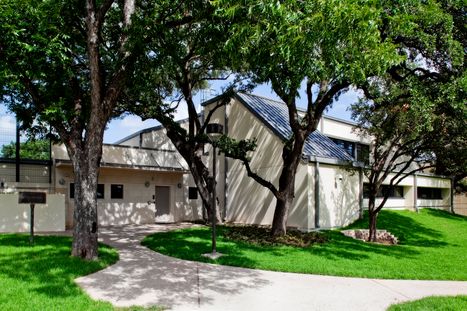 UT Austin Data Center
As a subconsultant to the design-build team of DPR/Page, Sunland provided architectural design and cost estimating services to convert the existing 26,000-square-foot central receiving facility into a Tier III data center. The facility, located on the UT campus is a highly secure and hardened facility without appearing as such. It blends with the context of its adjacent buildings. This project re-purposed an existing facility for new usage and was designed based on sustainability principles.
The new facility has approximately 9,000 GSF of "white space" to house a new state-of-the-art Tier III data center and supporting spaces to sustain the growing demands of the University's computing needs. The new data center area includes a raised floor that allows for cable paths and air flow under the data center racks, as well as electrical, HVAC, life safety, security and access control upgrades. The existing roof and wall structures of the CRB were evaluated to ensure the data center security and performance requirements are met. The existing facility had water infiltration problems so part of the architectural design was a complete replacement of the building envelope. New natural gas engine generators and uninterruptible power supply (UPS) are installed to maintain power to the data center in case of a source outage. Sunland provided architecture planning and design on this project and led the sustainable design effort.