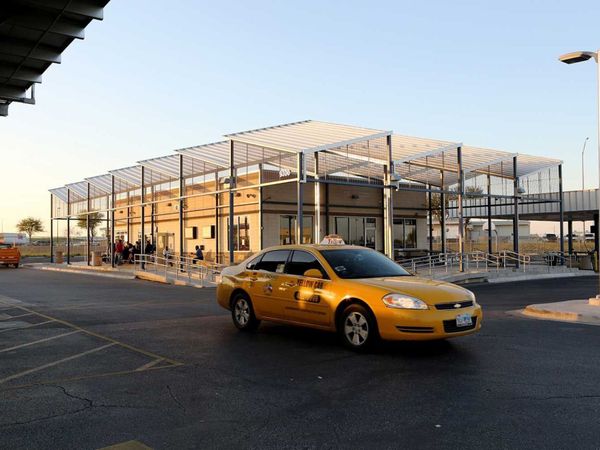 Ground Transportation Staging Area Relocation and Renovation
The relocation of the airport's Ground Transportation Staging Area (GTSA) at Austin-Bergstrom International Airport (AUS) involved the renovation of an existing rental car lot to provide a new and improved staging area for commercial ground vehicles (taxis, limos, vans, etc.) and a break area for their drivers. This renovation project represented the alteration of an 11-year-old facility to a new occupancy and function. The building, bays, and canopy created a new building with a capacity of 100 people waiting in a conditioned space. The adjacent site included space for quiet contemplation, a covered outdoor space for additional drivers, shading structures for vehicle parking areas, and new site lighting and security.
The architectural scope of this project consisted of three main components:
Consolidate the building as one cohesive envelope and condition all interior space.
Create outdoor waiting areas or a porch around the building.
Architecturally integrate it with an existing outdoor canopy towards the back of the building.
This project received LEED Gold Certification, making it the first LEED-certified project at AUS and one of the highest-scoring LEED projects for the City of Austin.
OWNER: City of Austin
LOCATION: Austin, Texas
MARKET: Aviation
SIZE: 55,000-sf
SERVICES: Architectural Design, Civil Engineering, Project Controls, Construction Management
COMPLETED: 2012
SUSTAINABILITY: LEED Gold