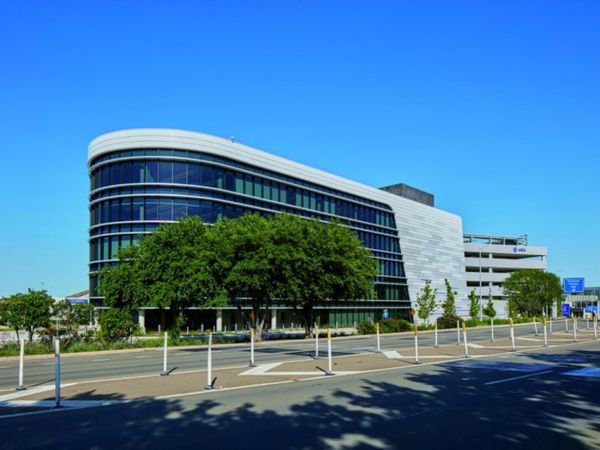 Parking Garage and Administration Building
Located at Austin-Bergstrom-International Airport (AUS), this project included the development of a new 2,100,000-sf, 5,800-car parking garage, and an 80,000-sf office building at AUS as a direct result of the need to provide a consolidated location for additional office space and parking for staff and travelers.
A speed ramp system was selected for the garage and the key to this system working efficiently is the garage's length, which allows the ramp assembly to access all six levels without switchbacks. In addition to typical revenue control gate arms, the new garage also includes a space-by-space detection system that provides customers will real-time data about the availability and location of open spaces.
Sunland provided architectural support to the design team focusing on the pedestrian access ways between the new construction and the passenger terminal. The pedestrian access included development at grade and within the existing garage. Two pedestrian bridges provided access between the existing parking garage and the new garage. In addition, Sunland was responsible for developing the new north toll plaza, parking operations building, and the new surface lot entry plaza.
OWNER: City of Austin
LOCATION: Austin, Texas
MARKET: Aviation
SIZE: 2.1 million-sf, 5,800-car parking garage, 80,000-sf office building
SERVICES: Architectural Design Development, Construction Documentation, Project Administration, Project Management
COMPLETED: 2019
SUSTAINABILITY: LEED Gold