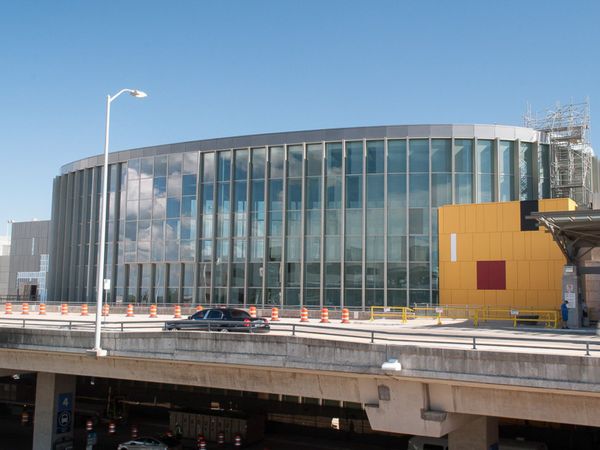 Terminal East Infill
Located at Austin-Bergstrom-International Airport (AUS), this project expanded existing passenger processing capabilities for security screening, ticketing, customs, and baggage handling in preparation for a nine-gate expansion of the East concourse of AUS.
The additional 55,000-sf in the terminal reshaped the entrance to the airport with a multi-story, windowed, and colorful terminal adjacent to much of the pedestrian area of the airport. A new passenger security screening checkpoint with eight lanes is expandable up to 10, and a larger customs area was designed with the latest standards. Inside the project, which has achieved LEED Silver certification, a connection was added from the east ticket lobby to the concourse at gate five.
Sunland's role included coordinating the programming and conceptual design process with the existing facility and the existing master plan for the airport. Sunland's staff provided insights and information on best practices for aviation terminal design to the design team related to AUS and airport systems such as CUPPS, baggage processing design, and other aviation-specific issues. Sunland staff also participated as part of the overall design team developing documentation that has been packaged for fast-track construction. Sunland provided design support during the construction phase for change issues related to temporary RAC counters in the bag claim area and newly expanded baggage make-up areas.
OWNER: City of Austin
LOCATION: Austin, Texas
MARKET: Aviation
SIZE: 55,000-sf
SERVICES: Architectural Design, Terminal Planning
COMPLETED: 2016
SUSTAINABILITY: LEED Silver