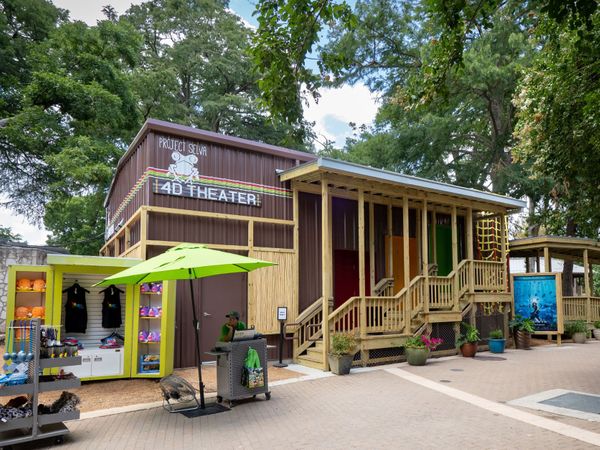 Project Selva 4D Theater
Sunland was contacted by the San Antonio Zoo to supplement an ongoing project which needed an A&E team to provide overall design coordination and finish the life safety and code required design. The project was designed incrementally, including a pre-engineered metal building (PEMB) housing a portable amusement ride.
The project packages included:
The ride package is contained within two interconnected trailers. For the ride package, there was a ride manufacturer's architect, structural engineer, and MEP engineer.
The PEMB package included the PEMB structural engineer and an MEP engineer who designed the system supplying the building shell and the ride.
In another package, Sunland performed the architecture, structural, civil, landscaping, and MEP engineering which included:
Coordinating the work of the first two pre-existing packages and ensuring their integration.
Sitting the project within a very tight triangular site. This was a challenging design problem. To accommodate the building, decks, ramps, and fire lane, Sunland designed a unique solution of cantilevering the queuing decks over the adjacent Flamingo Pond. This gave us the room we needed to properly fit the building to the site.
Architectural and structural design for the IBC code and TAS compliant queuing decks, ramps, and stairs.
Infrastructure design for the final theming elements.
Structural design of the foundation and ramp/deck piers.
Power and plumbing design to the building which supplied the other design packages.
Submitting the project to the Historical Commission for review and approval.
Submitting the project to the City of San Antonio for permitting.
Construction administration services.
Surveying.
Sunland was engaged with this project in early March 2022 and was charged with assuring it was designed, permitted, and constructed in 3 months. This was a considerable team effort between the ride manufacturer, owner, contractor, and Sunland to achieve the deadline. The project culmination resulted in an on-time delivery of the San Antonio Zoo Project Selva 4D Theater which has 45 seats and two wheelchair-accessible spaces.
OWNER: San Antonio Zoo
LOCATION: San Antonio, Texas
MARKET: Community & Culture
SIZE: 1,744-sf
SERVICES: Architectural Design, MEP, Structural, Civil, Landscaping, Permitting
COMPLETED: 2022