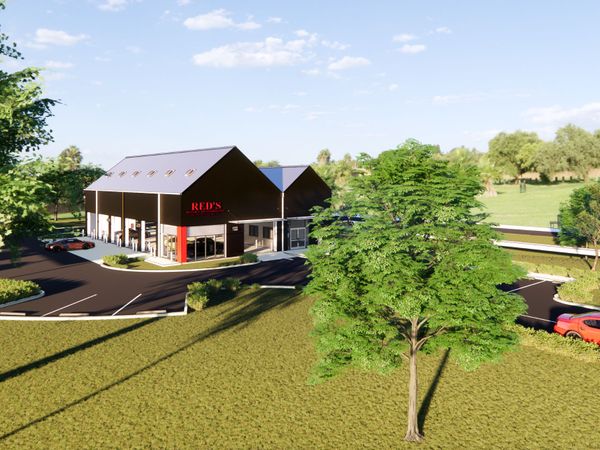 Red's Car Detailing
Sunland provided architectural design and documentation, civil and site development, municipality approval, and project management for the new 52,000-sf auto detail and reconditioning shop in Dripping Springs, TX.
The shop has five service bays for cars and employs up to 10 on a typical day. The owner opted to have us lead the way in using the One Water principles in the early stages of the project, and knowing that a typical detail shop is a water-intensive use, Sunland's team set up a rainwater harvesting system with split plumbing to feed the car detailing machines and steam cleaning mechanical systems, and for toilet flushing for customer and employee bathrooms, all with water-efficient fixtures. The rainwater tank was sized to also accommodate landscape irrigation and during the calculations for the Water Balance of the system, Sunland found the tank to have over 2 months of capacity based on normal business operations, 7 days a week, and could be filled up with only a 2" rain event which happens nearly every month of the year in this part of Hays County.
The green infrastructure focused on a Water Quality Pond that treated the site's impervious cover to remove 100% of Total Suspended Solids with irrigation into the riparian perimeter landscape area that would be at a rate for proper nutrient uptake of Nitrogen and Phosphorus. The septic system drain field utilized drip dispersal into the vadose zone (root zone) of the vegetation occurring on the best soils available on site and on the flattest land using an early TCEQ Site Evaluation of the soils. The Land Planning phase of the project was important for the owner to consider his options and utilize the One Water principles to the maximum effect and Sunland was proud to be a part of the team.
OWNER: Red's Car Detailing
LOCATION: Dripping Springs, Texas
MARKET: Community & Culture
SIZE: 52,000-sf
SERVICES: Architecture, Civil Engineering, Project Management