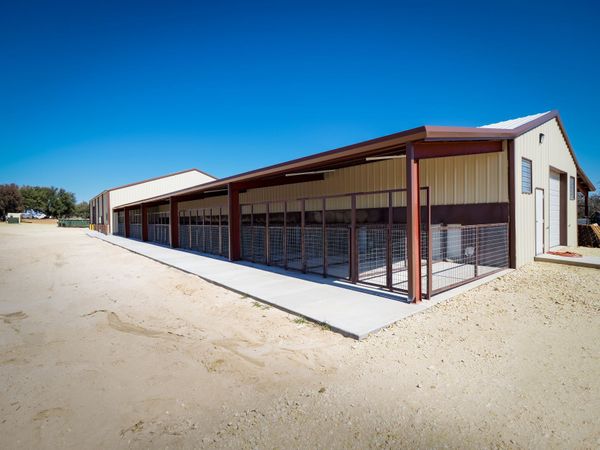 Animal Barn and Practice Facility
In support of its agricultural education program, Huckabay Independent School District (HISD) needed a new animal and practice facility quickly and it had to be created with a small budget. Sunland worked with the Design-Build Contractor NEA to establish the most economical way to provide the owner's program. Some cost-saving design measures we incorporated included building siting allowing for future expansion, simplifying the pre-engineered metal building (PEMB) construction footprint, field fabricated animal pens, and minimizing the amount of veneer fenestration to only areas visible from the main campus.
The new 12,623-sf animal barn and practice facility includes pens for animals (30-100 pigs, goats, and sheep), a practice show arena with a sand base, wash areas, storage, restrooms, electrical/mechanical rooms, and office space. Individual animal pens were designed for approximately 30-sf of indoor area with a covered outdoor area of approximately 100-sf for each animal pen. The building was situated on the site and designed to accommodate future expansion.
OWNER: Huckabay ISD
LOCATION: Stephenville, Texas
MARKET: K-12
SIZE: 12,623-sf
SERVICES: Architectural Design
COMPLETED: 2021